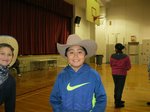 Students enjoy a square dance during Family Reading Night
We are thrilled to announce that author/illustrator, Floyd Cooper, will visit Willow Brook on Friday, May 20!
--------------------------------------------------------
Family Reading Night 2016
Celebrating America's Stories
January 28, 6:00-8:00 pm
Dear Families,
We are getting excited about our upcoming Family Reading Night on Thursday, January 28, from 6:00-8:00!
This year's theme is "America's Stories". We will focus on stories that are uniquely American like tall tales, Native American
stories, cowboy stories, African American stories, etc. We have an evening of fun planned for the ENTIRE family.
Our special guest speaker this year will be Tennessee's Cowboy Poet Laureate, David Nelson! He'll kick off our
evening with a storytelling session from 6:00-6:30 dressed in full cowboy gear. He is an accomplished poet and storyteller
and we are pleased that he'll be sharing some cowboy tales with us.
From 6:30-8:00, we will take turns rotating through different stations including a craft station, a snack station
and an "open mic" station where the grown ups can tell stories about when they were children! This means you, parents,
grandparents, aunties, uncles! Come ready to share a story about when you were a child or about a family tradition.
If you are able to come, please fill out the form below and include the number of family members that will be attending
so that we can reserve a spot for you! If you have any questions, you can contact Mrs. Meidl at 425-3265 or Mrs. Peters at
425-3201.
Feel free to come dressed as a cowboy, cowgirl, Native American, famous historical character or tall tale hero!
(John Henry, Swamp Angel, etc).
<><>><><><><><><><><><><><><><><><><>><><><><><><><><><><><><>
Fall 2015
The Book Fair is Coming!
http://bookfairs.scholastic.com/homepage/willowbrookelementaryschool1
---------------------------------------------------------------
Willow Brook is thrilled that illustrator, R. Gregory Christie, will be
visiting our school on Friday, May 15, 2015. Your student will get to
listen and learn from this multi-award winning artist/illustrator. If you would
like to hear him as well, come join your child during his or her special area
time.
8:40-9:30 3rd Grade

10:20-11:10 1st Grade + Mrs. Williams, Mrs. Bell and Mrs. Gore's Classes

1:20-2:10 2nd grade + Mrs. Aldridge and Mrs. Nall's Classes
2:20-3:10 4th Grade
Questions? Call Mrs. Meidl at 425-3265. See you there!
The day after Mr. Christie's visit, he will also be at the Children's Festival of Reading on Saturday, May 16 from 10-3 along with many other authors and illustrators!
See the link below for the complete author/illustrator line-up: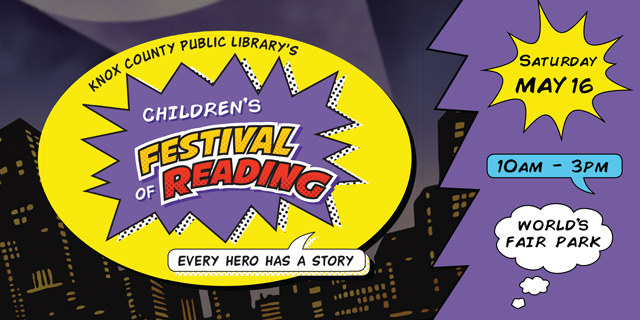 -----------------------------------------------------------------------------------------------------------------------------------------------------------------------
Family Reading Night

The Legends of King Arthur
January 20, 2015
Come spend an evening in the Middle Ages! Meet Master Falconer, Michael Acuff and his Harris hawk, Fred. There will be storyteling and snacks, crafts and crowns, a catapult workshop and the opportunity to make your family crest. The evening will begin at 6:00 and end at 8:00 pm at Willow Brook.
_______________________________________________________________
Hear ye! Hear ye!
The Book Fair is coming to Willow Brook from September 22-25!
Be on the lookout for an informational flyer coming home.
Follow this link!:
http://bookfairs.scholastic.com/homepage/wb
------------------------------------------------------------------------------------------------------------
Hey, 3rd and 4th Graders---get ready for a Skype visit from the
creator of the Lunch Lady graphic novel series, Jarrett Krosoczka!
We will Skype with him on Monday, April 7, 2014 at 2:15.
There is a contest for those who create a crime-fighting kitchen gadget.
15 students who create an excellent gadget will win a free copy of one
of the Lunch Lady books! Turn your gadget in before you leave for spring break and
we'll put them on display in the library. See Mrs. Meidl if you
_________________________________________________________________
Tuesday, January 28, 2014 from 5:00-6:30!
at Willow Brook Elementary School
Bring the entire family out for a fun, myth-filled night based on the
Greek myths. There will be four stations; Greek dancing, Snack Like a Cyclops,
Make a Mythological Craft and Opening Pandora's Box where you test your
knowledge of Greek mythology. The event is free but be sure to turn in your
registration form to your teacher!
-----------------------------------------------------------------------------------------
The Book Fair comes to Willow Brook
This year's theme is "Reading Oasis: A Hot Place to Find Cool Books!" 3rd and 4th graders have been reading and researching about Ancient Egypt just for this occasion.
The fair will be open during students' class periods. There is no morning shopping this year because of scheduling conflicts. On Thursday, however, we will move everything from the library down to the cafeteria for the Walk for Willow Brook. The fair will be open from 5:30-8:00 pm! The whole family can come on out and support Willow Brook and your student's reading!
If you can't make it to the fair this year, you can shop online by following the link below this:
http://bookfairs.scholastic.com/homepage/wb
2013 summer reading & listening programs
Get Excited About Reading this Summer by Signing Up for the 2013 Summer Reading Programs! All Preschool and Elementary Age Children are Invited to Participate.


How Does it Work?
Register in the Oak Ridge Public Library Children's Room beginning May 20th until June 29th. Return your reading log by August 3rd to receive a prize pack.


How Many Books Do I Have to Read?

Independent Readers are asked to read at least 10 books to successfully complete the program.


What if I'm just learning to read or can't read yet?

Listeners or Family Readers (kids reading with parental help) can still participate. Sign up to listen to or have help reading 15 books to complete the program.


Is there anything else?

The Friends of the Oak Ridge Public Library Summer Reading Program Committee have some wonderful activities planned this summer. Beginning June 10th programs will be offered at the Library. Mondays at 10:30am for toddlers and preschoolers and Tuesday at 10:30am for school age kids. We have puppets, singers, storytellers and magicians all coming to entertain you. Pick up a complete program schedule when you register
Have a question? Call Ms. Michaela, the children's librarian, at the ORPL at 425-3459.
___________________________________________________________________________________________________________________
It's time for the 3rd annual poetry slam at WB! Poetry is rhythm + words, so bring both on June 4th, 2013 in the library and you'll get a turn at the microphone!
Teen author, Birke Baehr, will visit the 3rd and 4th graders at Willow Brook Elementary School on May 17th, 2013 at 1:30!
Please feel free to come listen to Birke as he discusses organic farming and his personal journey to understand the food that we Americans eat. His book will be available for pre-order and autographing. (More information about the pre-orders is to come!)
------------------------------------------------------------------------------------------------------
Common Core Standards Come to Tennessee!
As you may know, all Tennessee schools are moving toward the Common Core Standards which will be fully implemented in 2014. These standards have been adopted by 45 states in our country. At Willow Brook, we are excited and working hard to prepare our students to meet the challenge of this rigorous, new set of standards. Below is the mission statement and link for the Common Core Standards:
The Common Core State Standards provide a consistent, clear understanding of what students are expected to learn, so teachers and parents know what they need to do to help them. The standards are designed to be robust and relevant to the real world, reflecting the knowledge and skills that our young people need for success in college and careers. With American students fully prepared for the future, our communities will be best positioned to compete successfully in the global economy.
The 2012 Book Fair is coming to WB!
Please come join us!

Monday September 17-Thursday September 20
There will be many, many different books for your students to choose from. They will be able to shop during their library classes and in the morning before classes start.
The ENTIRE family can come shop on Thursday evening, September 20 during our Walk for Willow Brook from 6:00-8:00 pm in the cafeteria.
Come on out and support reading and your school library!

------------------------------------------------------------------

Welcome back, Willow Brook!
Here are some new books in your library---Check 'em out!
Novels:
c
Dan Yaccarino visits WB on Friday, May 18!
Grades 1-4 will enjoy a visit from Dan Yaccarino this week. He is the author/illustrator of wonderful books like The Birthday Fish and Lawn to Lawn. He's also the artist for the shows Oswald and Willa's Wild Life. Books will be available for sale the week of May 14-18 and the students who buy one can have it autographed by Mr. Yaccarino!
Willow Brook Poetry Slam 2012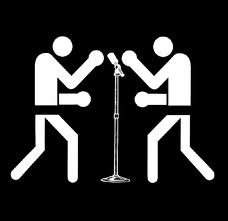 It's that time of year again! April is National Poetry Month and we will be having our 2nd annual Poetry Slam on Friday, April 27, 2012. Any student who has a poem to share from a book or one he or she has written, will get time at the microphone to "wow" us with their words. Whether you're in kindergarten, 1st, 2nd, 3rd or 4th grade, YOU can make words fun. See you there!
On March 8, 2012, our kindergartners and 1st graders will enjoy a visit from author and illustrator, Nina Crews! Ms. Crews is visiting from New York City and will discuss how she makes her books and where she gets her ideas. Below is a montage of her picture books:
With Super Hoops around the corner, students are checking out sports books in the library. The Dewey Decimal system tells us that many sports books can be found in the 796 section of the library. Check it out!
__________________________________________
March's website of the month is Kazu Kibuishi's

Amulet

website. If you are a fan of graphic novels, check out this site!
We will begin featuring the "Website of the Month" here on the WB Library web page.
and, yes, you guessed it, Skippyjon Jones is the star of this website. Check it out! You can sign up for the Skippy Scoop, write Mrs. Schachner an email, play games and all kinds of good stuff!
Willow Brook enjoys a classic story on the big stage, December 14, 2011!
All of Willow Brook Elementary School will visit the Clarence Brown Theatre on Wednesday, December 14, 2011 to see the stage performance of A Christmas Carol by Charles Dickens.
This classic story was written in 1843 and has been told and re-told in many ways ever since then. Our very own Christian G. will play Tiny Tim onstage!
All WB students will hear the story in the library the week before the performance and students can check out a copy of this wonderful story in the library.
News Alert! Wendelin Van Draanen visits Willow Brook!
Students and staff alike recently enjoyed a visit from author Wendelin Van Draanen! She has written several series including the Shredderman series, The Gecko and Sticky series, and Sammy Keys Mysteries, all of which you can find at the WB library! If you like humor, adventure, and a good theme, you'll love Mrs. Van Draanen's books. Check them out!
To view pictures from our "big day," go to photo albums and click on Van Draanen.
To view Mrs. Van Draanen's websites go to:
http://www.randomhouse.com/kids/vandraanen/
http://www.randomhouse.com/kids/vandraanen/shredderman/
_______________________________________________________________________
Reading Promotion Week at WB!
Our reading specialists have many activities planned for WB's Booktacular Reading Promotion, October 24-31. Although we received the unfortunate news that the federal government has cut funds for the RIF Program, Mrs. Miller and our PTSO have graciously provided funds to offer each child two free paperback books this year. Your child will choose one of these free books to take home this week during his or her library time!
Here are some new books that you can look forward to in the library:
For those in 4th grade, you can take the VOLUNTEER STATE BOOK AWARD CHALLENGE like the students at Glenwood Elementary School!! Read three books, pass 3 AR quizzes and you're "in the club." Every book after that has an incentive. When you get to your 10th book and quiz, you become a celebrity in a READ poster (see example below). At the end of the year, you can take your poster home with you! Go for it, 4th grade!
Did you know that April is National Poetry Month?? Poetry is for everyone, whether you write it yourself or enjoy poetry that others have written. It's another way to express your stories and/or feelings and it's unique because it's meant to be read out loud!
Check out this poem by our very own 2nd grader, Evelyn P.!
March is like a lion. Out in the west, coming into town.
Shaking like a storm in the Midwest.
Spring is here, spring is here. The crowd comes here to cheer.
There's Dr. Seuss's birthday and Justin Beiber's too!
There's a storm roar a great roar. Shaking like elephants pounding the ground.
It's a lamb so bright and dear, so kind and shear.
Running around the prairie ground, eating the ground's grass.
Leaving to come again. Making spring bright and sunny no rain or storm.
Good bye, lamb, good bye.
Here is a poem by 4th grader, Marlon B.
Check out some new books in the library!
Cressida Cowell's Hiccup Horrendous Haddock III series is very popular.
Also added to the Willow Brook collection are some award-winners: