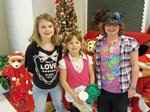 New Ladies In Charge!
3 students take over!
On Wednesday, December 13th Willow Brook had a change in administration...4th grader, Jean Vance, acted as principal for the day while 4th grader, Savannah Guy and 1st grader, Haley Gray were her assistant principals. While in charge these ladies took the entire school to the Clarence Brown Theatre to see a production of A Christmas Carol. These ladies won this honor by being the top three fund raisers in the PTO's Walk For Willow Brook campaign.