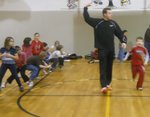 Devin leading students in workout
OAK RIDGE - The city's Willow Brook Elementary School is the winner of a national award for its early-morning exercise program that promotes healthy lifestyles for students.The school's "Mornings in Motion" program won the Healthy Living Innovation Award in the K-12 school category from the U.S. Department of Health and Human Services."We're just beside ourselves," said Mardee Miller, principal of the 480-student school. "To know we're getting recognition on a national level is so exciting."Mornings in Motion is a voluntary, three-day-a-week program that puts students through a half-hour of nonstop physical exercise before classes start.Teachers were at first a bit wary about the program and fretted that students would start classes "wired up, and they'd have to settle them down," said Blair King, the school system's health coordinator.Instead, he said, educators found their pupils "were coming to class alert and ready to learn."Exercise "turned on that lightbulb before they came into class," King said. Attendance steadily increased over the last school year, and more than 300 students ended up participating by year's end. School wide, the student obesity rate dropped from 39 percent to 29 percent. Devin Driscoll, owner of Next Level Training in Knoxville, redesigned the program last August and oversees it. "I wanted to get the kids excited about working out," Driscoll said. The first-ever national awards were given out in eight categories, including schools, workplaces, cities and towns, and nonprofit organizations. The winners "represent the most creative, innovative and effective ideas from around the country to promote health within communities," Sherry Glied, an assistant secretary in the Department of Health and Human Services, said in a statement. Willow Brook representatives will travel to Washington, D.C., to receive the award from department Secretary Kathleen Sebelius.
Bob Fowler, News Sentinel Anderson County editor, may be reached at 865-481-3625.